The auditions for the Bachelor Training program 2022-25 are over.

Pre-selections were organized between January and April 2022 in 19 cities in Europe and beyond:Athens, Barcelona, Brussels, Bucharest, Budapest, Florence, Hamburg, Helsinki, London, Paris, Porto, Reykjavik, Riga, São Paulo, Stockholm, Tokyo, Tunis, Vienna and Zürich.
The final audition took place in Brussels from 4 until 9 April 2022.

We are happy to announce that a fourteenth generation of students started the Training program on Monday September 5, 2022.
The next auditions for the bachelor Training program 2025-2028 will be organised between January and April 2025.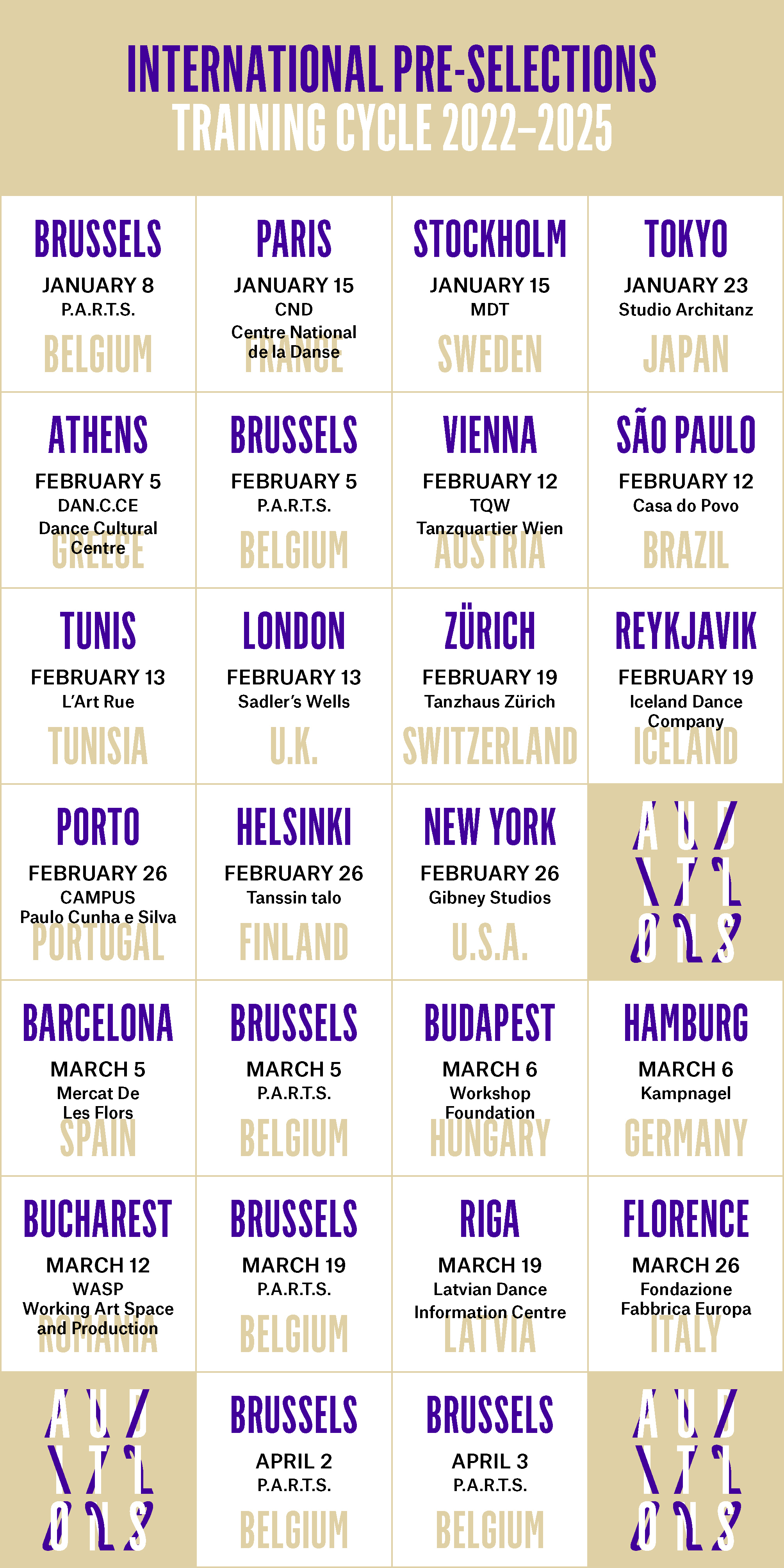 INTERNATIONAL PRE-SELECTIONS TRAINING CYCLE 2022-2025
Pre-selections will be held between January and March of 2022 in Athens, Barcelona, Brussels, Bucharest, Budapest, Florence, Hamburg, Helsinki, London, Paris, Porto, Reykjavik, Riga, São Paulo, Stockholm, Tokyo, Tunis, Vienna and Zürich.

If you live very far from any of the countries in which preselections take place, contact us at auditions@parts.be.
We hope to see many of you on one of our pre-selection dates!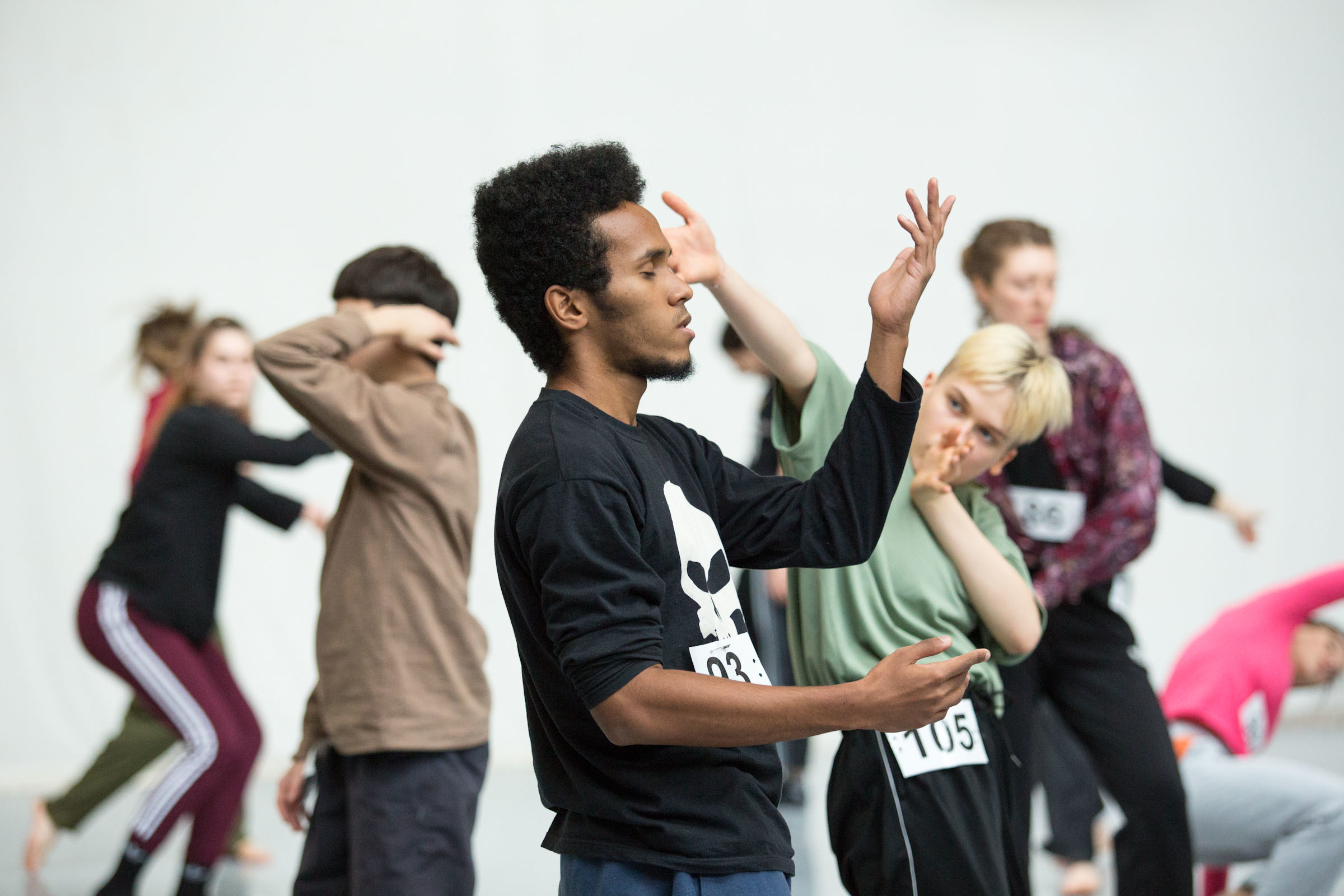 AUDITION PROCESS
The audition is divided in two steps:

1) You must register online for a pre-selection which will take place in various cities across Europe and beyond between January and March, 2022.
2) Only candidates who are selected at a pre-selection can take part in the final audition, which takes place on April 4-9, 2022 in Brussels.
Participation in the final audition is mandatory to be selected for the Training program.
So block the dates now!
Please Note
Before choosing a pre-selection date and city, please note that certain conditions must be met in order to enroll as a student at P.A.R.T.S.:
- candidates must have a high school diploma before September 1, 2022. For exceptions to this rule, see the FAQ page.
- the minimum and maximum age requirements are 18 and 23 years old before December 31, 2022
- a minimum level of English proficiency is required (B2 or higher in CEFR scales); this is essential for being an active participant in the program.
HOW TO REGISTER FOR A PRE-SELECTION?
You have to register for one, and only one, pre-selection date and location through the online registration form.
There is a limited capacity for each pre-selection.
Registration ends on Monday at 9am CET before the pre-selection you want to attend. You will be asked to pay the registration fee on-line at the end of the registration form to complete the procedure.
We recommend you not to wait to register, as we close the registrations for a pre-selection venue as soon as it reaches its maximum capacity. If this is the case for your preferred preselection location, you can contact us at auditions@parts.be

You can REGISTER HERE ! (click to open)
Up-date 18/03/2022:
Please note that the following pre-selections are COMPLETE:
- the Brussels pre-selection of April 2nd, 2022.
- the Florence pre-selection of March 26th, 2022
You can still register for the -last Brussels pre-selections on Sunday April 3rd, 2022.

FREQUENTLY ASKED QUESTIONS
A more detailed overview of the entire audition procedure and entry criteria is available in our FAQ document, which you can find here >>
If you feel you can't find an appropriate answer to your question, please feel free to send an e-mail to auditions@parts.be.


COVID-19
It is every candidate's responsibility to check the local COVID-19 measures in the country of pre-selection and to check the travel measures to Belgium.
More info regarding the travel measures to Belgium can be found here: https://www.info-coronavirus.be/en/travels/

For the preselections in Brussels on Saturdays March 19th, April 2nd and April 3rd, you do NOT have to present a Covid Safe Ticket (CST) or EU Digital covid certificat anymore.

For the other preselections: the local existing COVID-19 measures will be taken into account. We will communicate about this in a timely manner. The presentation of a Covid Safe Ticket (CST) or EU Digital covid certificat, might be necessary.

For the final audition in Brussels from 4-9 April, 2022, you do NOT have to present a Covid Safe Ticket (CST) or EU Digital covid certificat anymore.

The Covid-19 vaccines that are authorised for use in the European Union are Comirnaty (BioNTech and Pfizer), Spikevax (Moderna), Vaxzevria (AstraZeneca), Nuvaxovid (Novavax) and COVID-19 Vaccine Janssen.
https://www.ema.europa.eu/en/human-regulatory/overview/public-health-threats/coronavirus-disease-covid-19/treatments-vaccines/covid-19-vaccines

All info about where to test in Brussels:
https://brussels.testcovid.be/en/covid-safe-ticket/