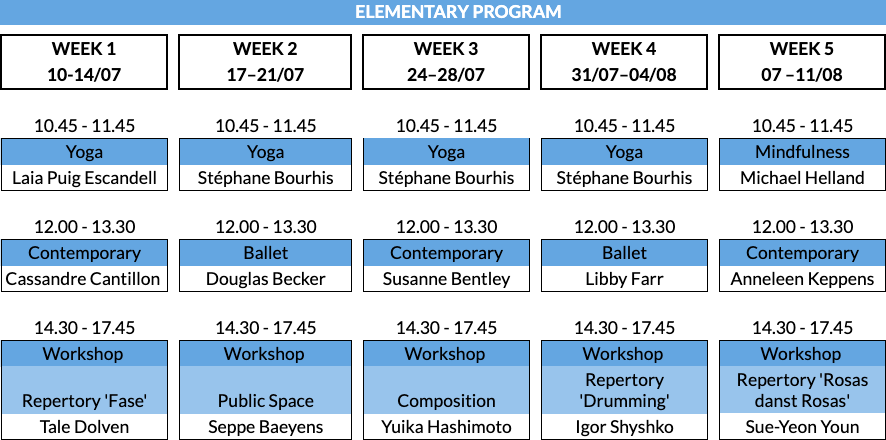 The ELEMENTARY PROGRAM (blue) is for dance enthusiasts who have once in a while taken a dance class or workshop but do not do so on a regular basis. The program will give the participant time to encounter the basic requirements of contemporary dance.
Click on the week link to find information on the classes and teachers of the
ELEMENTARY PROGRAM.
WEEK 1 (10/07 - 14/07) >>
Laia Puig Escandell, Cassandre Cantillon, Tale Dolven

WEEK 2 (17/07 – 21/07) >>
Stéphane Bourhis, Douglas Becker, Seppe Baeyens

WEEK 3 (24/07 – 28/07) >>
Stéphane Bourhis, Susanne Bentley, Yuika Hashimoto

WEEK 4 (31/07 – 04/08) >>
Stéphane Bourhis, Libby Farr, Igor Shyshko

WEEK 5 (07/08 – 11/08) >>
Michael Helland, Anneleen Keppens, Sue-Yeon Youn

HOW TO REGISTER?
You can REGISTER HERE>>

You will receive a confirmation email after submitting your registration and making the payment.
If a package is complete, you can enlist on the waiting list (by clicking on the button "waiting list"). We will contact you when there are cancellations.

Please note that it is possible we change your level after verifying your dance experience. In this case, you will be contacted by one of our team members. If you were to disagree with the new level, and only in this case, we will fully refund your package purchase not including the registration fee.
If it seems after the first day that the level of the class/workshop is not adequate for you, the teacher can - in consultation with the coordinator - change you to another level.

There is no deadline for registration. As long as there are free places you can keep on registering, but it is recommended to book early to safeguard your spot!