The auditions for the Master STUDIOS program are over.
The next auditions for the MA STUDIOS program 2025-2027 will be organised in the Spring-Summer 2025.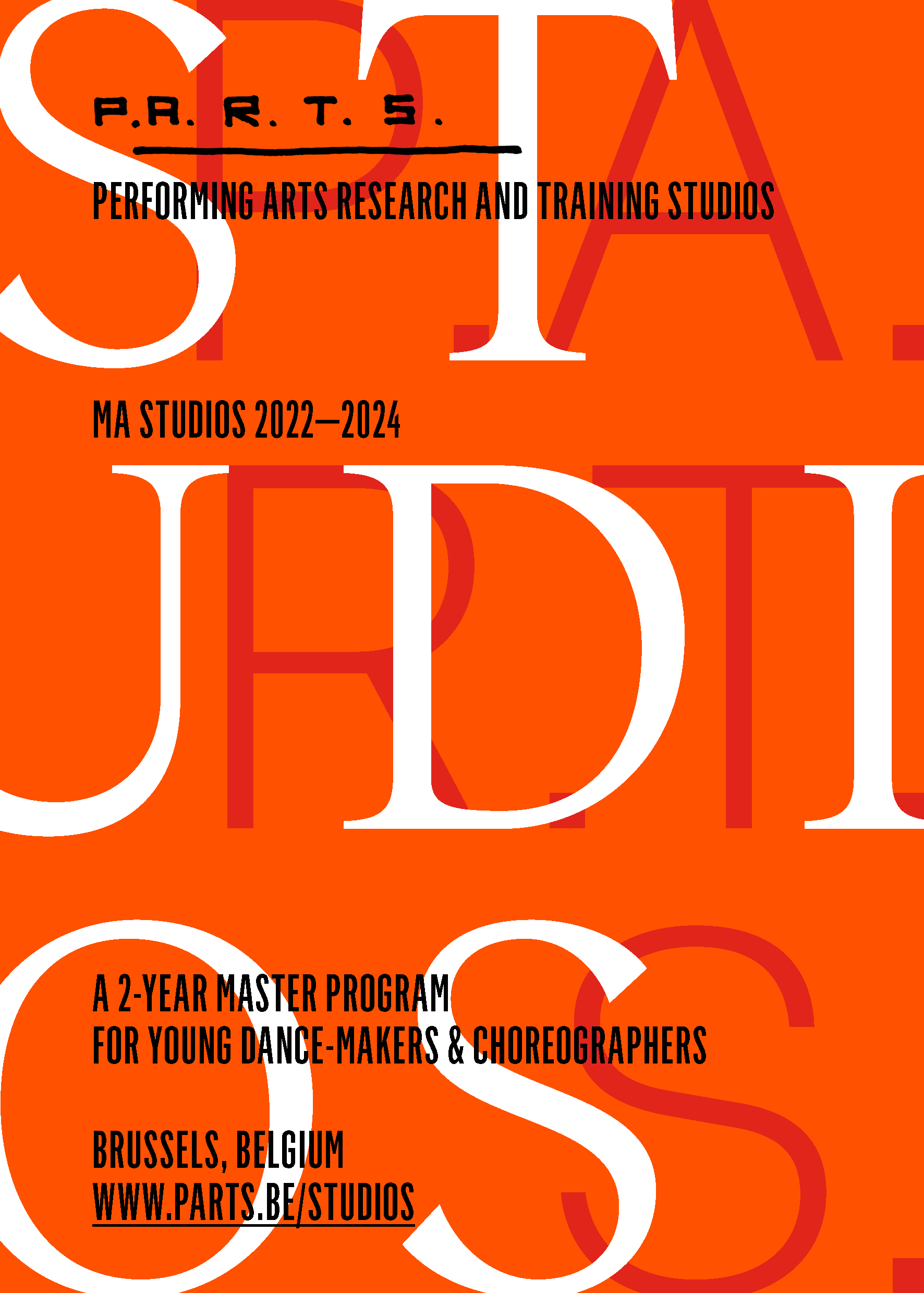 ABOUT THE FINAL AUDITION from July 11-16, 2022.
Participation in the final audition costs 50€, to be paid after receiving the invitation for the final audition.

Details about the different elements and tasks will be communicated to the candidates a few weeks before the audition.

The final selection will be communicated to the candidates one week after the final audition.

WELCOME

P.A.R.T.S. only opens up its STUDIOS (MA) program every three years to aspiring dance makers and choreographers between the ages of 21 and 27. The STUDIOS program will begin its next two-year course in September 2022 for which auditions are organised in July 2022.
The STUDIOS (MA) program is aimed at students who are holders of a bachelor in dance or equivalent. During 2 years, the participants deepen and widen their experience as dance makers through advanced study, artistic research and theoretical reflection. This happens in a collective environment: students develop a range of projects during the course, in collaboration with peers and in response to the different elements of the program.
For more info about the about the program and profile of the participants
read more >>

AUDITION PROCESS
The audition is divided in two steps:

1) A pre-selection takes place via a written application. To apply, candidates send in a digital dossier containing the following elements:
- a motivation letter
- a cv
- 2 reference letters
- a weblink to max. 10' of video material of work that you have created or co-created on youtube or vimeo. This can be a compilation or a single piece/extract.
- a text of max. 1 page to introduce and contextualise the video material

The application should be sent by email to Steven De Belder (steven.debelder@parts.be), before April 10, 2022.

2) Selected candidates will be invited for the audition which will take place in PARTS from July 11-16, 2022.
The final audition consists of the following elements:
- a longer dance and improvisation class;
- a 10' performative presentation called 'walk+talk', in which the candidate presents their work and their research interests;
- a 20' individual talk with the jury;
- a task to create a 3' solo. The concrete parameters for the task will be given on the first day of the audition, and during the audition period there will be studio space to create the work;
- the task to give a short feedback on the solo presented by another candidate;
- a group talk, guided by a moderator and observed by the jury;
- writing a 2-page essay. This happens before the audition itself, details about the topic will be sent to the candidates one week beforehand.